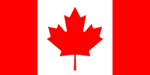 We welcome all orders from Canada
Please note that the shipping rates quoted do not include duties or taxes and you will be responsible for paying these upon delivery.
If you prefer, we can ship on your account (FedEx or UPS) or use your own broker/carrier. In this case there would be no shipping or handling charges from ThunderPower Megaphones. Please place your order by phone to use your own shipping carrier.