Description
Details: 25 Watts of power, approx. 800 yards range.
Volume: Voice: 102 dB / Siren: 118 dB. dB
How loud is that?
The ThunderPower 250 is an ideal megaphone/bullhorn for coaching outdoor sports or when talking to large crowds. This heavy-duty megaphone is perfect for indoor or outdoor activities and is used by:
Police Officers
Fire Fighters
Teachers
Coaches
Preachers
Demonstrators
The ThunderPower 250 is also ideal for:
Making Emergency Announcements
Proclaiming Important Orders
Directing Large Crowds
Because the ThunderPower 250 is constructed from heavy-duty industrial plastic, it is considered one of the most durable and well-made megaphones on the market today.   Whether it is grassroots protesting or mission critical synchronization of people, the ThunderPower 250 is the right choice for anyone who needs to be heard. Plus the blue and blue gray color scheme displays an attractive and visible design for grabbing attention or even being photographed.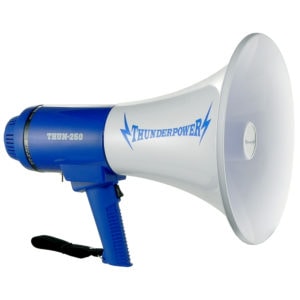 FLEXIBLE USES: The ThunderPower 250 is one of the most flexible megaphones on the market today. It is used by:
Emergency Response Personnel
Athletic Coaches
Cheerleaders and Sporting Fans
Schoolteachers
Community Organizers
Preachers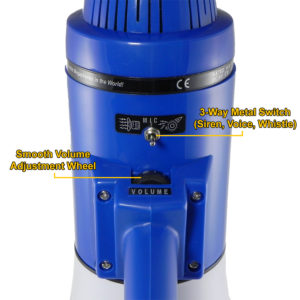 EMERGENCY SIREN OR COACHING WHISTLE SETTING: In addition to amplifying the voice, the ThunderPower 250 can project either an emergency alert siren or a loud whistle sound. Both can be heard for 800 yards and are great for coaching orders or commanding the attention of a crowd. Each sound can be governed by an adjustable volume control knob. The ThunderPower 250 is perfect for:
Coaching Team Sports
Crowd Control
Generating Audience Response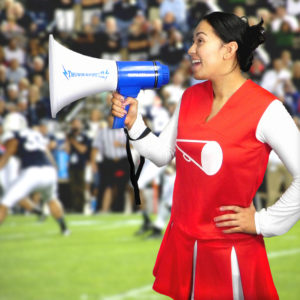 AMPLIFY VOICE SETTING: 25 Watts of power can amplify your voice across 800 yards(that's 8 football fields) with a 90-degree voice projection angle for direct sound aiming. 10-inch bell megaphone speaker is a handheld, 3.8 lbs with easy to move finger trigger switch.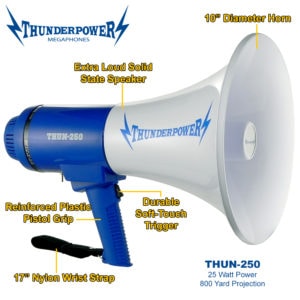 HIGH-QUALITY CONSTRUCTION: A multiple range of sounds can be used comfortably with the strong hand filling pistol grip and 17-inch black nylon wrist lanyard. Our power bullhorns are made with high-density strong plastic and solid-state speaker for lasting durability.