Description
Details: 15 Watts of power that can reach 700 yards, ultra-durable construction, pistol trigger switch, volume control, uses 8 AA batteries, 1-year warranty.
Volume: Voice: 100 dB / Siren: 112 dB. dB
How loud is that? See the comparison chart
T/dbratings/he ThunderPower 120 megaphone is made from the highest quality materials, including heavy-duty industrial plastic bell and handle, anodized aluminum mic screen, and reinforced nylon webbing wrist strap, making it far superior to less expensive, poorly designed megaphones. Battery operated with both whistle and siren sounds, this heavy-duty megaphone is perfect for indoor or outdoor activities like:
Music festivals
Fairs and Farmers Markets
Dance Festivals
Parades
Sporting Events
Campus Crowd Control
Cheerleading
Coaching
It has a high-powered PA sound projection capability allows you to take control of any large crowd and can be heard from 700 yards away. It is also lightweight and super easy to hold.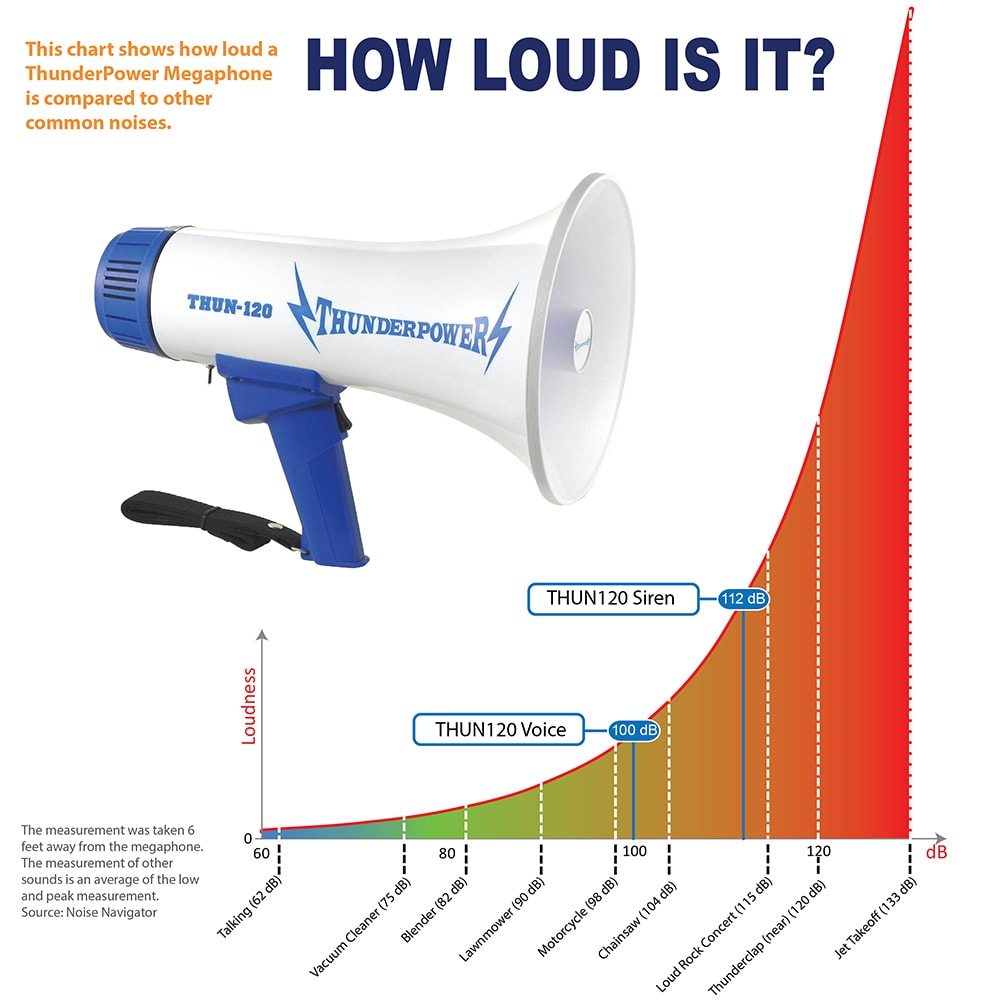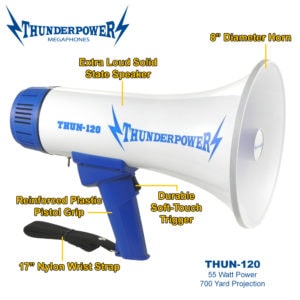 CLEAR SOUND & LONG RANGE: Be heard up to 700 yards away with this well constructed megaphone. Amplify your voice with clarity. This bullhorn speaker produces powerful 15-watt sound can cover 700 yards
ERGONOMIC GRIP & LIGHT-WEIGHT: This portable megaphone with siren and whistle is designed with a reinforced plastic pistol grip with soft-touch sound trigger. It is also amazingly lightweight and comes with reinforced nylon web wrist lanyard for easy carrying. It works with just 8 AA batteries for long lasting use.
FLEXIBLE, MULTI-FUNCTION USES: Perfect for athletic coaches, schoolteachers, emergency responders, parade organizers, protest organizers, and preachers.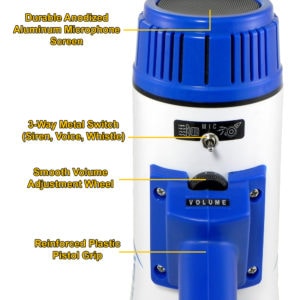 SIREN ALARM & WHISTLE MODE: Amplifies an emergency tone AND a whistle tone that can be activated by a simple toggle switch. Volume control can also be adjusted with a perfectly located thumb operated volume control knob. Get everyone's attention fast. Be heard loud and clear in any indoor or outdoor venue.
COMPACT DESIGN: This compact & portable PA speaker features a 8" diameter bell and 12" chassis that is constructed from industrial grade plastic that delivers a 90-degree sound projection angle for direct sound aiming. It weights just 2.5 lbs. with batteries, and can deliver up to 8 hours of continuous charging power.